SHOFU is "Always there"
Helping People around the World to Be Healthy and Attractive
Turning Traditional Craft Skills to Dentistry Maintaining Our Founder's Spirit of Venture and Bringing Traditional Craft Techniques to the Field of Dentistry
Shofu was established in 1922, in the second half of the Taisho era, by Kajo Shofu III, a well-known member of the Kyoto ceramics industry. Although originally a ceramics maker, Kajo did not stop at traditional crafts. Rather, he went on to form the company that bears his name. Shofu was ahead of its time in the industrial mass-production of ceramics, the development and commercialization of high-voltage ceramic insulators and the development of Japan's first artificial teeth made of ceramics (porcelain).
Since establishment in 1922, Shofu has expanded its business domain from porcelain to include dental treatment and techniques, as well as the dental materials and equipment used in preventive oral hygiene. In the process, the Company has lead Japan and the larger world with many product "firsts." In keeping with our founder's spirit of venture, in 1989 we became the first company in the field of dentistry to go public. Later, in 2012 we were listed on the First Section of the Tokyo Stock Exchange. Maintaining our role as a leader in the comprehensive manufacture of dental materials and equipment, we aim to contribute to the field of dentistry in Japan and throughout the world.
Providing Innovative Products that Protect the Teeth, the Gateway to Health and Beauty
Teeth are vital to our enjoyment of life. They are also essential to our health, as they help to consume the food that keeps us alive. As they are also symbols of expression, many people throughout the world strive to maintain a mouthful of sparkling, aesthetically pleasing teeth. To help these dreams come true, we leverage the R&D expertise that we have fostered from our inception in partnership with other researchers and educational institutions as we work to provide creative and innovative products for every era.
We also continue to evolve in line with fluctuations in the environment surrounding dentistry and changes in people's needs. Shofu's never-ending quest is to ensure the beauty and functionality of natural teeth; teeth that are aesthetically pleasing, have little physical impact and support health over the long term. To this end, we will continue making a vigorous quest to develop new products that contribute to the health and beauty of people throughout the world.
Corporate Philosophy
Contribution to dentistry through innovative business activities
~ Proven products for better dentistry ~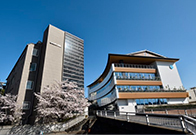 SHOFU INC.
11 Kamitakamatsu-cho, Fukuine,
Higashiyama-ku,
Kyoto 605-0983,
Japan
Telefon: (81) 75-561-0411
Telefax: (81) 75-561-0412
E-Mail: info@shofu.co.jp
www.shofu.co.jp