Tribute to the Late Mr. Makoto Yamamoto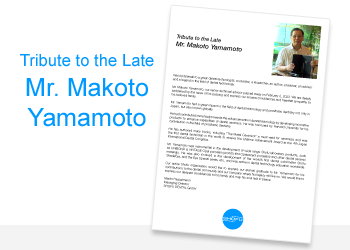 We bid farewell to a great dental technologist, a scientist, a researcher, an author, a teacher, an advisor and a legend in the field of dental technology.
Mr. Makoto Yamamoto, our senior technical advisor passed away on February 2, 2023. We are deeply saddened by the news of his passing and express our sincere condolences and heartfelt sympathy to his beloved family.
Mr. Yamamoto had a great impact in the field of dental technology and prosthetic dentistry not only in Japan, but also known globally.
He had contributed immensely towards the advancements in dental technology by developing innovative products to enhance capabilities of dental ceramics. He was honoured by Harvard University for his contribution in the field of prosthetic dentistry.
He has authored many books, including "The Metal Ceramics" a must-read for ceramists and was the first dental technician in the world to receive the Lifetime Achievement Award at the 4th Japan International Dental Congress.
Mr. Yamamoto was instrumental in the development of wide range Shofu laboratory products, such as UNIBOND & VINTAGE Opal porcelain (world's first Opalescent porcelain) and other dental ceramic materials. He was also involved in the development of the world's first dental colorimeter Shofu ShadeEye, and the Eye Special series, etc., and was active in dental technology education worldwide.
Our entire Shofu organization would like to express our eternal gratitude to Mr. Yamamoto for his contributions to the dental community and our company where his legacy will live on. We would like to express our deepest condolences to his family and may his soul rest in peace.
Tetsuo Takami
President & COO
Shofu Inc.
Feb. 10, 2023