DentaLaze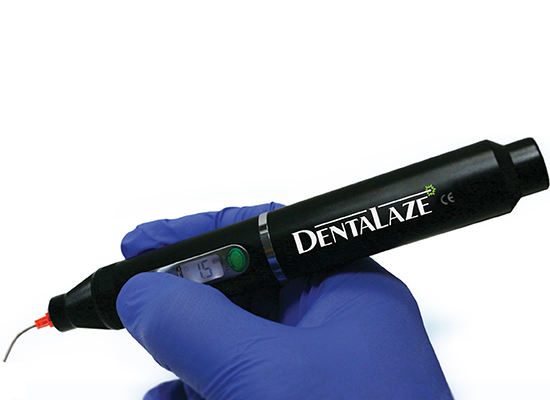 DentaLaze is a wireless diode laser with superior performance and a compact, ergonomic design at an unbelievably affordable price. Only $3,495! 
• Perform a variety of soft-tissue procedures with greater patient comfort and less healing time
• Delivers 3W constant and 5W pulsed infrared power at 808nm
• Runs continuously for 45 minutes on a single charge
• Distinctive green aiming beam for better visibility during procedures
• Handheld ergonomic design is perfect for anterior and posterior applications
• Intuitive push button interface
• Wireless, durable aluminum construction
• Disposable Fiber Tips to save time and prevent cross-contamination
Popular Procedures
• Hemostasis
• Frenectomy
• Gingivectomy
• Incision/Excision
• Root Canal Therapy
• Canker Sores/Aphthous Ulcers
• Periodontal Sulcular Debridement
• Gingival Troughing for Impression
• Desensitization
• And many more soft tissue procedures!
DL001 • DentaLaze Diode Laser Kit ($3,495.00)
Included with the kit:
• 1 Laser Handpiece – (Main Control & Battery)
• 2 Goggles
• 1 Laser Shield
• 5 Fiber Optic Tips
• 50 Barrier Sleeves
• 1 Charging Stand
• 1 Power Adapter
DL002 • Fiber Optic tips – 25/pk ($159.00)
DL003 • Barrier Sleeves 500/pk ($99.00)
DL004 • Goggles 1/pk ($249.00)
DL005 • Laser Shield ($199.00)
DL006 • Laser Handpiece Main Control Battery ($249.00)
DL007 • Charging Stand ($199.00)
DL008 • Power Adapter ($99.00)
For more information call: 800-827-4638