Beautifil-Bulk Flowable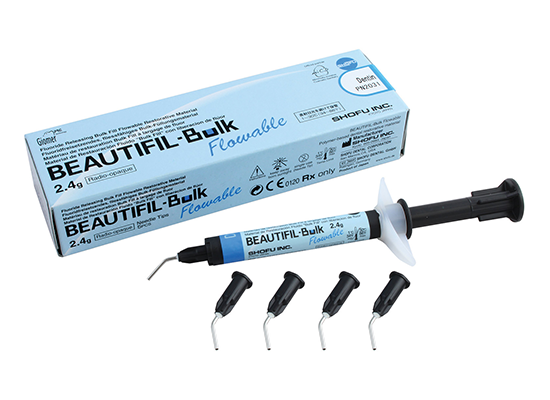 Beautifil-Bulk Flowable incorporates SHOFU's bioactive, Giomer filler technology, an S-PRG material demonstrating 13 years of clinical success*, within a fast and easy bulk fill composite. Designed to deliver aesthetic results, low shrinkage stress and complete polymerization at 4 mm depth of cure.
High filler ratio (73 wt%) helps to reduce volumetric shrinkage (3.5 %) and shrinkage stress while increasing compressive and flexural strength
Vickers Hardness test results (48 Hv) show above 95 % polymerization at 4mm depth of cure
High flexural strength (119 Mpa) with a low flexural modulus (9 Gpa)
Natural Opaque shade stability to match surrounding tooth structure
Superior fluoride release and rechargeability
Self-leveling allows easy adaptation
10 second cure time
High level of radiopacity, 2.5 Al:mm
CE Credit: Providing an Environment Where Tissues Can Regenerate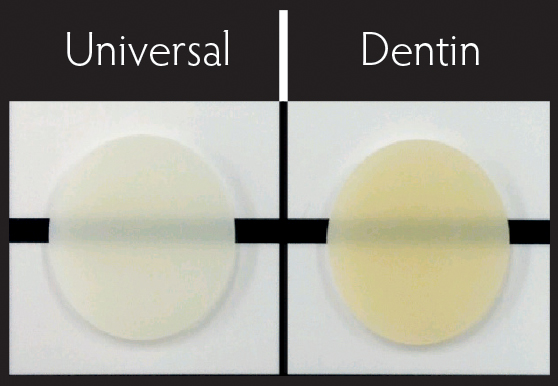 Beautifil-Bulk Flowable Syringe Refills 2.4 g
PN 2030 • Universal
PN 2031 • Dentin
Beautifil-Bulk Flowable Tips 20 x 0.23 g Tips
PN 2028 • Universal
PN 2029 • Dentin
*Gordan, V. et al, ed. IADR General Session. Seattle, Washington State Convention Center. March 23 2013. Clinical Evaluation of a Giomer Restorative System: Thirteen-Year Recall. Poster Session.